Wolfenstein: Enemy Territory este un joc apărut acum 19 ani și conform multor gameri, este unul dintre cele mai bune jocuri multiplayer care au apărut vreodată pe PC. Este atât de vechi încât foarte mulți tineri nu au avut plăcerea de a-l juca, mai ales j
Chiar dacă abia ieri a apărut pe Steam, jocul era disponibil în alt loc în tot acest timp. Dezvoltatorii Splash Damage îl au pe site-ul lor și îți oferă chiar și instrucțiuni despre cum să îl joci pe un sistem modern. Cu toate astea, lucrul ăsta nu se poate compara cu varianta de pe Steam care face totul mai convenabil, mai ușor de accesat, și oferă posibilitatea de a scrie și citi recenzii și de a activa într-un community hub.
Un Wolfenstein old school pe platforme noi
Acțiunea din Wolfenstein: Enemy Territory are loc în timpul celui de-al doilea Război Mondial și urmărește lupta dintre americani și germani. Meciurile pot avea până la 32 de playeri, 16v16, care se pot diviza în echipe mai mici pentru o comunicare mai bună. Mi-au plăcut foarte mult ultimele jocuri Wolfenstein, și spun cu părere de rău că sunt suficient de tânăr încât să nu prind perioada în care jocul ăsta era pe val, dar m-a făcut suficient de curios încât să vreau neapărat să îl încerc. Pe lângă asta, e gratis! 
ET: Legacy 2.80.2 'Path Cleared! But like, for real this time!'
Two weeks ago we released the first hotfix 2.80.1 'Path Cleared!' for the initial ET: Legacy 2.80 'Clear the Path!' release another two weeks earlier. Backed by an absolutely amazing increase in activity following the recent Steam release of Wolfenstein: Enemy Territory, we are happy to bring another hotfix your way.
Given the age of the game, user-friendliness is not on the level of modern games. Given the recent influx in players, we improved the quality of error messages for debugging. On the other hand, we also fixed an issue crashing the game on start-up for some of you. Improving debugging is only a small part as we are also actively looking into UI customisations and improvements. (Again. But like for real this time!) Some improvements to the mod UI have already been included in this release with others still being ironed out.
---
PRIMARY CHANGES
Fixed double sound issue
Fixed voice chats on steam 2.60b client
Fixed game not running on Wayland on Linux
Prevented unintentional pushing by holding down

 

+activate
-> full changelog
This map is an overhaul of the original Bergen map created by Detoeni and the Wolf Project. As part of the ET: Legacy asset creation effort certain maps are being overhauled. Those maps have been selected for their stable gameplay, even in a competitive e
To prevent Allied convoys reaching shores, the Axis have to hold the naval base at all cost and keep the transmitter operational.
Screenshots:
Download the new map version HERE
Source - MODDB - Kemon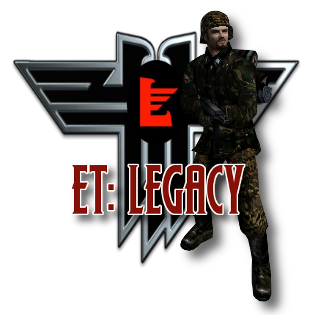 PARAZIT WET 2022 Wolfenstein: Enemy Territory Instaler contain all maps and mods running on PARAZIT-Clan Server
Update : ET: LEGACY VERSION 2.79.0
Update : All Maps & Mods file from PARAIT Server
Add New :Shortcut to Desktop connect automaticaly on PARAZIT Server
Add New : Generate automaticaly ETKEY
And many more....
We want to thank everyone for all your support this year. Additional helping hands have joined the team and made it possible to actually implement shorter release cycles, so those of you that are not using the snapshot builds can still enjoy the newest fe
Utmost respect and thanks also goes out to the admins of the ET: Legacy Competitive community. The effort put into this is incredibly motivating and a huge help. Your regular scrims combined with proper organised cups provides so much valuable hands-on feedback to this project, enabling us to prioritise and tailor features and fixes for the best ET: Legacy experience possible.
If some of you, dear ET fans, have not joined the ET: Legacy Competitive Discord, but are looking for regular matches, events and friendly banter, make sure to join the lovely folks over at ETL Comp. Discord channel. It may help in avoiding a quadra-panzer wipe withing the first 10 seconds of a match, basically handing the opponent the win. Not that this happened or anything. Just....hypothetical....you know? cough
This is all for this year. But honestly, the future of this project has never looked more promising as going into 2022. There are so many great things on the horizon for ET: Legacy, so make sure to keep an eye out for news in our Discord, as well as the Competitive one.
All that's left for us to do is wish you all happy holidays and a pleasant start to 2022.
Grab the latest release in our Downloads section.
This is Devils Right Hand's final version of his Wolfenstein: Enemy Territory map
This is Devils Right Hand's final version of his Wolfenstein: Enemy Territory map, Toxic Fabric, which has been ported from Quake3 to Wolf: ET. Special thanks to Aciz from etjump for the, weapon_respawn, script.
This is a Capture the Flag map.
Download the final version HERE
Source - Splatterladder - Devils Right Hand