Splatterladder Name reservation
PRZGavrila, Sun Jan 30 2022, 11:14AM
This tutorial is for player who don't know how to reserve and protect their playername at SL, playername is the name which you use inGame
IMPORTANT:
register and create your account at Splatterladder if you don't have one, over here SL Registration
Reservation:
Once you have an account, we going to reserve the playername that you used to play with, for example I'm going to reserve my playername -=Medic=-
like the screenshot N°01, Hit SL.Setting (1), hit New Reservation (2):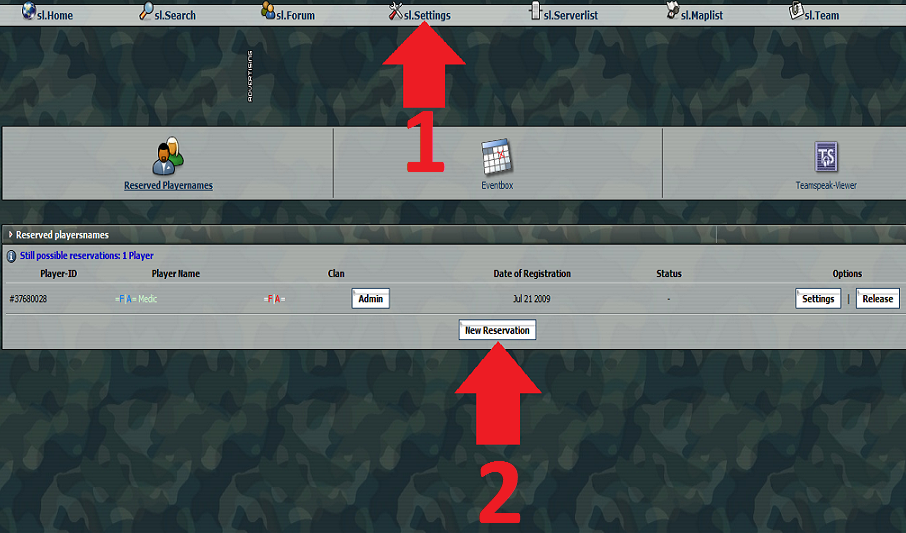 in screenshot N°02 you have choice between enter Playername (without code color) or ID, both can be found by searching at SL.Search and for ID you can see here SL ID Wiki
Hit Acquire (2) to reserve name, be sure the name you enter is not reserved already by another player.
after reservation you can start playing and check from time to time your stats and ranking at SL after each map. RANKING is only update once every 24 hours.

Protection:
if you are interesting by Ranking system there is a chance that some player use your reserved playername and make you lose ranking, to avoid any name stealing better protect that name by using specific code color, this way splatterladder will only track the name with color code you want
Hit SL.Setting, next to name you wanna protect Hit Setting, screenshot N°03 (1)

screenshot N°04, under name (1) you have your name with color code "^" select the text with code and put it in the field, see screenshot, then HIT Submit
PS/you can add or change color code anytime you want, But always the name with color code you put in Tracker Settings to play this way SL will track you

after protect your PlayerName, you can see after each map, if you put different color code that SL don't rate your name and mark it as "Looking", Screenshot N°05
So only use name with the right color code you put already in Tracking Settings to be sure SL with track that name

you can disable color code protection by removing in Tracking Setting the name and leave it empty and submit
Edited  by Fearless Staff